We're all about curiosity
and innovation.
And if that leads to
world label domination,
so much the better.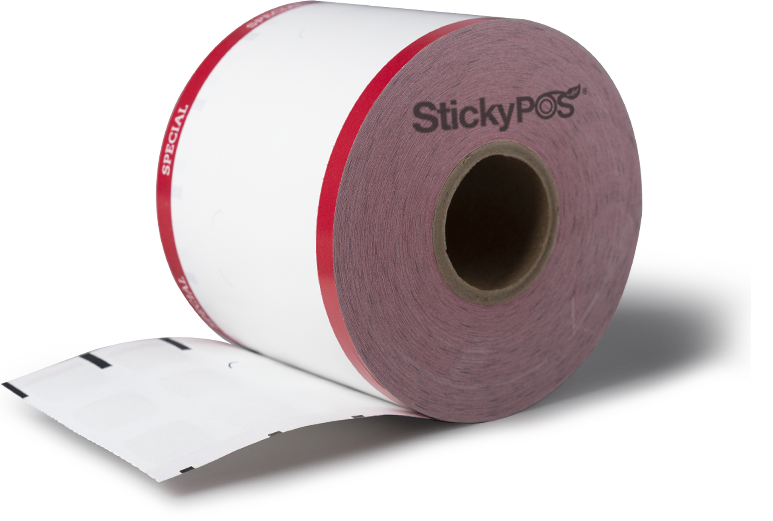 A founding vision.
Our founder, Joel Van Boom, an attorney and CPA, started an innovative printing business called Documotion Research in 1997. He recognized there were plenty of printers out there – but few true solution partners. That insight spurred Joel and his team to create and patent consumer-driven products -- and global success with those products led them to the next big idea: liner-less thermal labels for the POS market featuring self-cleaning technology. Starting in 2009, team members and StickyPOS co-inventors Bill Krahl and Jeff Ehrmann worked alongside Joel tirelessly over the next 5 years through over 200 product trials, reams of research, and countless customer listening tours. StickyPOS first sales were in 2014 and our continuous development and expansion of the factory and product line has made us the innovation leader with over 8 billion labels sold. And we're only getting started.
Read More
Read Less
A critical difference.
We developed our own unique production equipment, built and maintained by an engineering team here in the U.S. That group works seamlessly with sales, marketing, and research to develop custom systems that work within each client's industry. In the last few years, we've expanded with outposts in Europe and Australia, building a platform poised to make StickyPOS the world leader, too.
To do that, we expect each team member to constantly be on the lookout for new ideas and improvements. Replacing good with better, every time.
Read More
Read More
Nothing's better than giving back.
A large part of our business is in food service – helping ensure customers are fed right, and right away. In that spirit, our corporate mission centers around making sure all members of a community are well fed, through a creative partnership with Second Harvest Food Bank Orange County www.feedoc.org.
It starts with traditional donations but goes further.
Through our employee match program, every dollar an employee or their family member donates -- we double. And we don't just donate money, we provide time and expertise. Several times a year we close our operations and bring our entire staff to Second Harvest to help restock shelves, manage inventory and deliver food. (And yes, we're pretty good with the labeling, too.)

Read More
Read Less
Coming Soon: Eating Better.
A blog on eating tips, recipes, restaurant recommendations. When? Not exactly sure -- we're still eating, we mean researching them.